THE G-FENCE PERIMETER DETECTION ALARM SYSTEM PROVEN TO BE RELIABLE, DURABLE AND DEPENDABLE IN DETECTING FENCE ATTACKS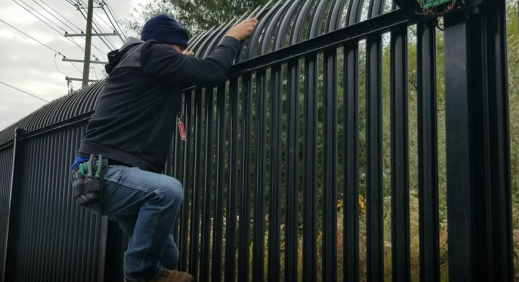 PERIMETER DETECTION OF AN INTRUDER ATTEMPTING TO CLIMB, CUT, OR RAISE THE FENCING.
As our needs for perimeter detection of attacks on fencing increased, Jade Alarm Co. began investigating the new technology that was now available. After narrowing the choices, we focused our efforts on a firm that we are an authorized dealer of and had previously utilized their outdoor PIRAMID motion detection sensors. This manufacturer has its act together. Their YouTube videos got our installer familiar with the proper method of installation and within a day the ENTIRE fence line detection system was in stalled around the perimeter of our property and then our Service Manager was able to program the entire system and get it interfaced into our own facility's security system!
WE THEN WAITED AND WATCHED – would it be of sufficient durability and reliability to weather the Mid-West's harsh environ ments and allow us to offer it to my valued customers who were having issues as well as new customers? The next week – the sleet starting to come down and then the snow and high winds….
The only alarm was due to squirrels jumping from the Propane tanks (used for the backup fuel source for the generators in the event primary natural gas failed) onto the fence – WOW!
We conducted extensive perimeter detection testing of the system including one of our personnel CUTTING the fence line before we felt comfortable enough to recommend it to prospective customers…..The system detected everything we could throw at it. But, would it work under actual intrusion conditions—that was the question being asked…
This was a pre-cursor of events to come…
The G-Fence system triggered at 04:57:53 hours the morning 02/15 when an intruder penetrated our perimeter chain link fencing. This was a very determined attack as the intruder had to scale the wall area to the South. There was a very tight space between the neighbor's wooden picket fence and our chain link fence (topped with UltraBarrier spikes). The fence detection system alerted us of the attempted intrusion and the would be thief was repelled.
With proper perimeter detection by this reliable system and remote video verification by our Central Station Dispatchers, Jade Alarm Co.  can proudly recommend this system to our valuable customers!
If you have questions—just call and talk to our consultants!
WE ARE HERE TO HELP
WITH YOUR PERIMETER DETECTION NEEDS!
CALL NOW! 816-333-5233